Geoff Druett presents for eko
We have been lucky to have worked with the legendary calendar presenter Geoff Druett, over the past couple of days. eko have been fiming for the last week in Malton, on a project for Ryedale district council.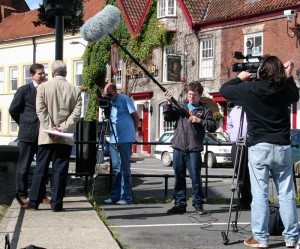 We are in the process of making a 20 minute film about the proposed developments to the town centre.
We managed to get a lot of people interviewed, and after two days filming with Geoff, we were starting to become the centre of attention.
We all had a good time though, the weather wasn't too bad, and we got to hear lots of stories about Geoff's exploits in TV land.