Jook box fury is the brilliant debut novel by our very good friend Kevern Stafford.
Eko may have designed the the book jacket cover, the badges, and postcards, and sarahphotogirl.com, may have produced the cover photo, BUT Mr Stafford has produced the best novel about popular music you could ever wish to read. Of course we are biased, but with very good reason, heres an overview of whats  in store.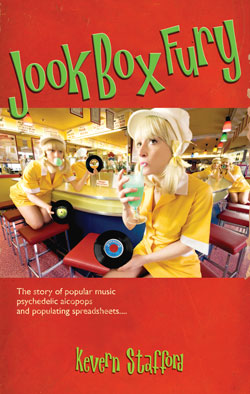 JookBoxFury – the story of popular music… and psychedelic alcopops… and populating spreadsheets…
A chaotic jukebox song pickers' game show takes to the road to launch the new alcopop, Jook – the drink that turns everything green for go-go.
Like a cross between Seinfeld and a beat generation Top of the Pops special, JookBoxFury is a celebration of rock and pop music, and it's epitaph. All rock 'n' roll is here, from its art and glories to its mythical stories.
As the 'voice of the fan', Ray Mitchell must impress the hostile Jook marketing team to get onto the tour. Then he faces the other contestants: the crazed cult rock icon, the It Girl, the rocking academic, the wordy music journo, and a gimmick obsessed Radio Wonderful DJ.  If Ray can beat them with his jukebox selections he will be crowned the Jook Duke of the Juke and could save himself, and rock 'n' roll, from mediocrity – unless the alcopop's strange side effects are exposed first…
JookBoxFury – from Lonnie Donegan to Equally Humdrum. From the dawn of rock 'n' roll to the discovery of the nouvelle bric(01)age. Jook, baby, Jook.
You can buy Jook box fury online or in any good bookstore, heres a link to the publisher Matador